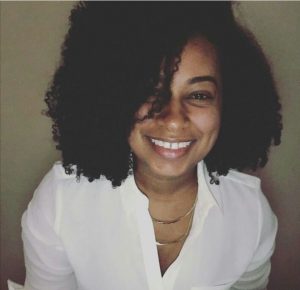 Nell Robinson
Green Dot Coordinator
Center for Health Advocacy and Wellness
You can contact Nell via phone at (850) 644-1584 or via email at jrrobinson2@fsu.edu
Describe your role on campus.
My main role is to coordinate the implantation of the Green Dot program on campus. That's a very vague way to describe what I actually do on the day-to-day basis. Every day, that looks different. Some days, its facilitating trainings and event planning; other days, it's connecting with students, faculty, and staff and building relationships with them.
What's your background and what led you to become the Green Dot Coordinator?
Throughout the professional career, I've had many, many jobs – some of them really odd (I once was a dodgeball referee). Some of these jobs were very logical – I needed a paycheck or I was just good at it. My journey to this particular role, however, was more personal than professional. Growing up, I have always been taught that the community is as important as the individual and when I started college, that's really what I wanted to do – some type of work with community. In college, my life was impacted by power-based personal violence. Years later, while pursuing my Masters of Social Work at FAMU, my advisor introduced me to someone who had a grant working on power-based violence prevention on campus and by pure happenstance, I was offered and took on a role with the grant. Through that role, I fell in love with violence prevention; I loved how relevant it was to me, how impactful and empowering it felt, and how dynamic it was. During that time, I was fortunate enough to be able to attend a Green Dot training at FSU as part of my professional development and that's when I realized there was something that existed at the intersection of all the things I had loved – community, violence prevention, and empowerment – and it was Green Dot. So when the grant ended and I saw there was an open position, I couldn't wait to apply and now, I'm super excited to be here!
What's your favorite thing about Florida State University?
Can I have two favorite things? On my first visit to FSU, I fell in love with the campus itself. The buildings and scenery were so gorgeous and picturesque! But as an FSU alumna, my favorite thing beyond the buildings is the tradition. There is such a vast population of people who attend this university or have graduated from it and yet, we are all connected by these really cool shared experiences that are specific to FSU – like game days in Doak or a warm welcome from Mrs. Killings in Suwannee.
What superpower would you most like to have?
I have spent years considering this question and I finally have the answer: my superpower would be the ability to instantly empty and refill anything. I'd love to be able to refill my cup of coffee, or empty my trash, or refill my gas tank without actually having to stop to do these things, or using money to do them.
What is one thing about you that might surprise people?
I am a baker and a cake decorator. I started baking as a stress relief in undergrad and now it's like, kind of a big deal. I once won "Most Creative" in a local "Chopped" competition, where I got to compete against actual restaurants. I've also been scouted by several TV producers and auditioned for Food Network.
Anything else you'd like people to know?
I love learning about people, their communities, and their histories! I'm really into human interest stories and cultural documentaries. So, I'd love nothing more than to hear from you and learn about you! (Also, I have a dog named Bentley and I'm more than happy to share photos of him)