The Center for Health Advocacy and Wellness (CHAW) and the kNOw More Student Advisory Board are excited to partner with student organizations, campus partners, and community partners to bring awareness and survivor support to our community for Sexual Assault Awareness Month (SAAM). The year's theme is 'Reclaim' which highlights how ways to take ownership of our bodies, our spaces, and community through action. Throughout the month, there will be several events and social media posts on ways to engage in SAAM. See our 2022 SAAM calendar of events below. Please follow @fsuknowmoresab and @fsuchaw to engage with us all month!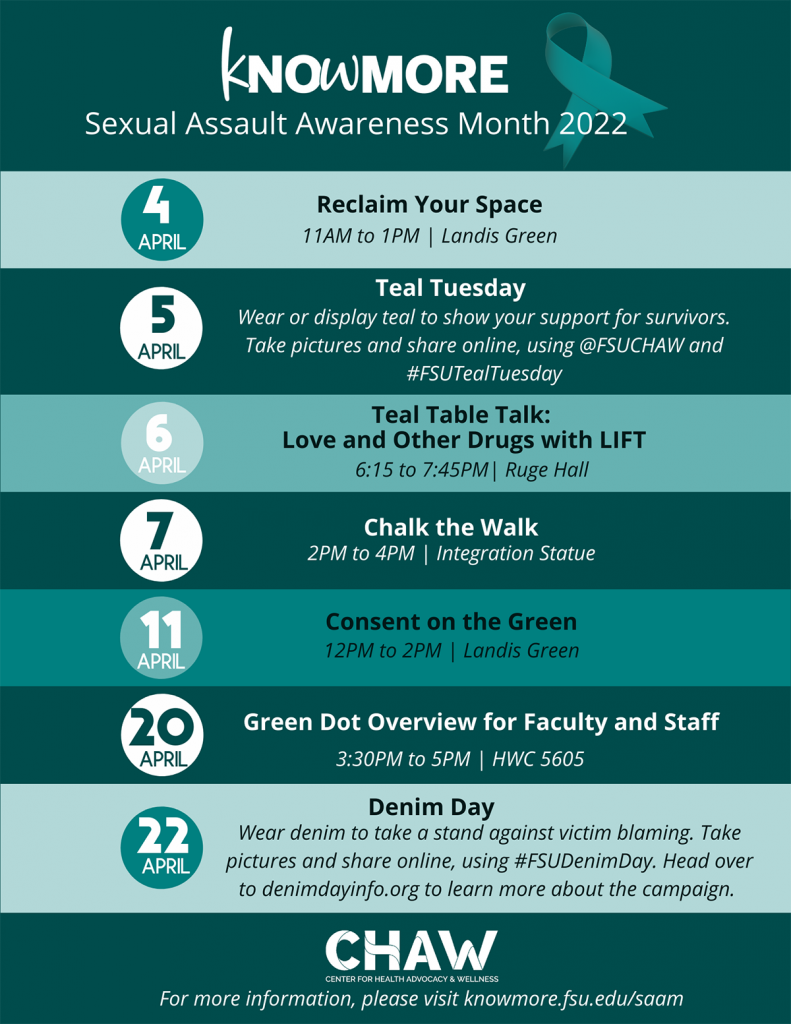 Monday, April 4th | Reclaim Your Space | 11AM to 1PM on Landis Green
SAAM's theme is "Reclaim". We are reclaiming campus by making art and posters that you can take with you to hang in spaces you want to reclaim from violence.
Tuesday, April 5th | Teal Tuesday
Wear or display teal to show your support for survivors. Take pictures and share online, using @FSUCHAW and #FSUTealTuesday
Wednesday, April 6th | Teal Table Talk: Love and Other Drugs with LIFT | 6:15PM to 7:45PM in Ruge Hall
Join CHAW and LIFT for a dialogue to explore the relationships between alcohol, drugs, and dating.
Thursday, April 7th | Chalk the Walk | 2PM to 4PM at Integration Statue
Help us chalk Legacy Walk with messages of support for survivors and information about sexual violence! (In case of inclement weather, this event will be rescheduled for April 14th. Please check the @FSUCHAW social media accounts for the most up-to-date information regarding this event)
Monday, April 11th | Consent on the Green | 12PM to 2PM on Landis Green
Got questions about consent or want to learn more about it? We're here to answer those questions and make understanding consent more accessible!
Wednesday, April 20th | Green Dot Overview for Faculty and Staff | 3:30PM to 5PM in HWC 5605
This overview will focus on ways that faculty and staff can help to eliminate power-based personal violence in our community and support those who have experienced it.
Friday, April 22nd | Denim Day
Wear denim to take a stand against victim blaming. Take pictures and sharing online, using #FSUDenimDay. Head over to denimdayinfo.org to learn more about the campaign.
The SAAM Syllabus is an introduction to Sexual Assault Awareness Month, violence prevention, advocacy, and trauma. The SAAM Syllabus is a collection of history, academic articles and journals, and playlists that explore sexual violence, consent, bystander intervention, public policy, and how they intersect with identity. This syllabus is a living and breathing document and will grow as we continue to grow in our prevention efforts. We publish this syllabus with hopes that you will engage with it, call yourself in, and learn more about sexual violence to create the more supportive community we are actively working towards. You can access the syllabus here.
SAAM Backgrounds for Zoom
Show your support for survivors by using one of our SAAM backgrounds for Zoom!